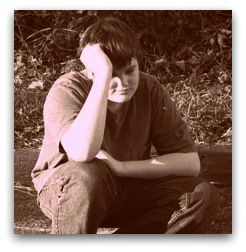 Last night, a friend told me that his 11 year old son had said he wanted to end his life. This was in response to hearing that his parents are separating. For me, hearing these words again, brought back some very painful memories.
I understand the deep pain underneath these words. I know what it feels like to want to end your life, because I've been there. I have uttered those words myself and I have heard my kids say them.
Some people say, "They're just looking for attention." In fact, I have heard this many times. Nothing could be further from the truth. I realize that there are always exceptions to the rules, but most of the time, someone says they want to end their life because they are in so much pain emotionally that they just don't know what else to do to stop the pain. They don't feel like they can handle it for one more minute.
We have to remember that children, teens and young adults, do not have the life experience that adults do. They are still, very much learning how to deal with stress. They might be upset about something, that as an adult, with much more life experience, feels is really not a big deal. Yet, to a young person, things like low marks at school, breaking up with a girl/boyfriend, or disappointing a parent, can feel devastating. If we take the time to think back to when we were young, we may be able to remember a time when we felt very alone and in need of some emotional support. [Read more…]