Is your child reluctant to sleep in their own bed?
Does your child have trouble sleeping through the night?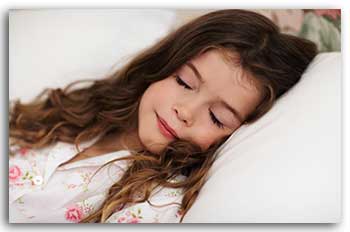 One simple technique that I use to help my young clients sleep is Reiki. Reiki means universal life force energy in Japanese. Reiki is a safe, gentle, hands-on healing technique which works on the body, mind and spirit. It always works for the highest and greatest good. I call it a massage for the soul. It is very relaxing.
If a child is having difficulty sleeping alone in their room, I spend time talking with them about their fears and concerns. Then, before I start their Reiki session, together, we set an intention for being able to sleep in their own bed, sleep through the night and wake up feeling refreshed and excited about their day. Often, after only 10-15 minutes, children will fall asleep. Parents report that their child sleeps well after a session and their child is able to sleep in their own bed.
I have noticed that children diagnosed with ADHD will very quickly become calm and relaxed during a session. One child slept for an hour and a half before her mom need to wake her up to take her home.
My daughter regularly asks me to perform Reiki on her if she is feeling stressed or has a headache or stomachache. She will also do self Reiki to help calm herself.
Reiki is easy to learn by children and adults. Reiki can be performed on yourself and others, so it is a wonderful gift for yourself and others.
If you are interested in learning more about how Reiki can help you and your child, please email me (nola@confidenthappykids.com) or join us at one of my workshops:
Reiki Level I for You and Your Child: A gentle, hands-on healing modality to help reduce stress and promote well being.
When:
Friday, November 22, 2013, 9:30 – 3:30pm (ages 6-10 years)
Monday, December 02, 2013, 9:30 – 3:30pm (ages 8 and up)
Investment: $200.00 (additional child $50)
To register:
Email Nola – nola@confidenthappykids.com or call 403-477-6594